Singapore's largest distributor of structural steel is first in Asia to bring in certified low carbon emission steel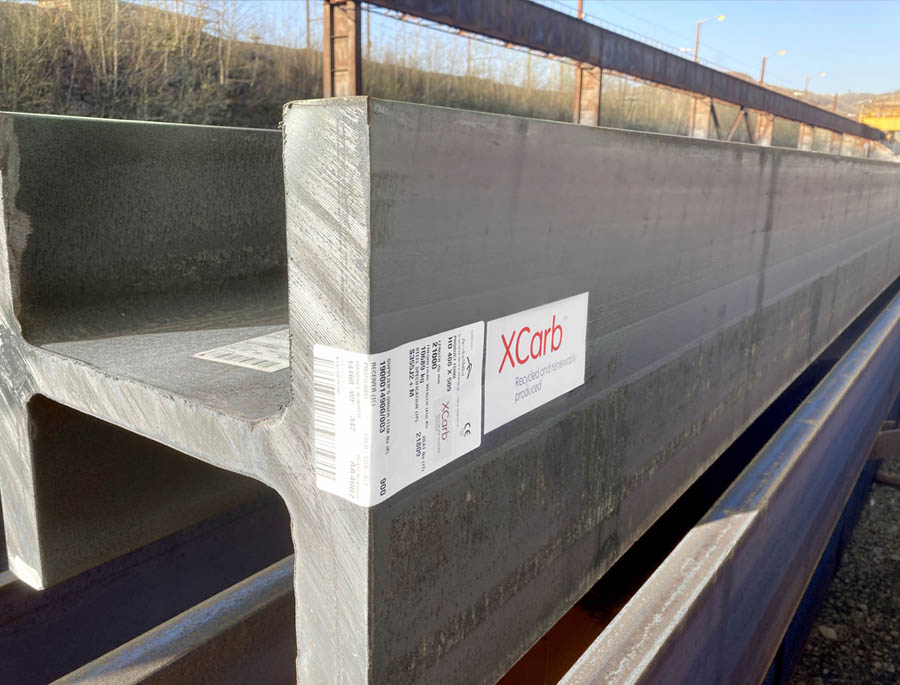 Singapore's Continental Steel is proud to be Asia's first in bringing in XCarb® recycled and renewably produced HISTAR S460 for use in the construction industry. Produced by the world's leading steel producer ArcelorMittal, 6,000 metric tonnes of XCarb® recycled and renewably produced HISTAR S460 low CO2 emission high strength structural steel beams will be delivered this month, for use as structural columns in high-rise buildings or as kingposts for top-down construction methods, to create deep underground basements.
"We are delighted to be the first in Asia to make available recycled and renewably produced steel that has been certified. There is a need to accelerate collective efforts to address the sustainability challenges across our industry and society at large. Continental Steel, as one of the leading premier steel suppliers, is well positioned to help reduce our customers' environmental impact through our core offerings and continuously introduce new innovations to deliver on carbon abatement in construction. This enables our customers to reduce carbon emissions as they work towards achieving net-zero emissions." says Melvin Soh, Executive Director, Continental Steel.
Climate change is a global challenge, and Singapore is taking firm actions to do her part to build a sustainable future with the Singapore Green Plan 2030. In Singapore, the demand for green steel in the construction industry is nascent but growing. Buildings account for over 20% of carbon emissions in the country, thus reducing CO2 emissions in this sector is a key lever to drive large-scale decarbonisation.
"We hope to play a responsible role in the transition towards being a climate-smart and sustainable society, through collaboration and partnerships across our industries. We will work with relevant stakeholders and policymakers to speed up the adoption of these low carbon steel solutions," adds Soh.
Continental Steel will hold substantial stock of XCarb® recycled and renewably produced HISTAR S460 to ensure sufficient and timely supply of the material to upcoming major Singapore infrastructure projects, like MRT stations, expressways and aviation hub expansion projects. The use of XCarb® recycled and renewably produced HISTAR S460 ensures a verifiable and substantially lower carbon footprint compared to the use of other steel products. Its usage also lowers carbon footprint due to potential weight savings from its higher yield strength.
Presently, majority of Continental Steel's products already originates from recycled steel. As sustainable steel is a long-term investment aimed at yielding enormous environmental benefits while ensuring long-term value, Continental Steel aims to offer only low-carbon emission steel by 2030 and carbon-neutral steel products by 2040.
Produced in Differdange, Luxembourg, XCarb® recycled and renewably produced is a pioneering customer product of ArcelorMittal with CO2 as low as 300kg/tonne. Produced using Electric Arc Furnaces (EAF), the XCarb® uses 100% of recycled steel scrap that is powered by renewable electricity sources like solar and wind power, resulting in lower carbon dioxide emissions.
Tony Demarco, Head of Exports Sales at ArcelorMittal Europe – Long Products, said: "We are very pleased that our XCarb® recycled and renewably produced steel is now entering the Asian market, thanks to Continental Steel, our first export client to benefit from HISTAR high strength steel together with the low carbon emissions that our new XCarb® recycled and renewably produced range now allows. It is a great satisfaction for us to support Continental Steel's sustainability vision as well as enabling their own customers to decarbonise their supply chain."
About Continental Steel
Continental Steel is one of the largest premier steel suppliers in South East Asia. Privately held and Singapore-based, we deliver market-leading engineering, structural steel and service solutions for all urban built environment needs. Continental Steel has had many different roles in its 40-year history delivering innovation to our customers, addressing present and future requirements.Continental Steel puts sustainability at the core of our business strategy and takes pride in working towards lowering the world's carbon footprint and creating a better future for generations to come.
Learn more at www.consteel.com.sg
About ArcelorMittal
ArcelorMittal is the world's leading steel and mining company, with a presence in 60 countries and primary steelmaking facilities in 16 countries. In 2021, ArcelorMittal had revenues of $76.6 billion and crude steel production of 69.1 million metric tonnes, while iron ore production reached 50.9 million metric tonnes. Their goal is to help build a better world with smarter steels. Steels made using innovative processes which use less energy, emit significantly less carbon and reduce costs. Steels that are cleaner, stronger and reusable. Steels for electric vehicles and renewable energy infrastructure that will support societies as they transform through this century. With steel at their core, their inventive people and an entrepreneurial culture at heart, ArcelorMittal will support the world in making that change.
ArcelorMittal is listed on the stock exchanges of New York (MT), Amsterdam (MT), Paris (MT), Luxembourg (MT) and on the Spanish stock exchanges of Barcelona, Bilbao, Madrid and Valencia (MTS).
For more about ArcelorMittal, please visit corporate.arcelormittal.com